I was looking at buying some new silverware/flatware for my house because somehow my spoons seem to be magically disappearing. (I think my old roommate lost a bunch & my new roommate hides them). Although my friends tend to through them in the fire pit occasionally as well.
Moving on, I did some basic research online and learned that gaining knowledge before a purchase of forks and knives is worth it. Buying flatware can be overwhelming quickly because there are so many varieties to choose from. Copper plated, gold plated, stainless, stainless w/nickel (18/10) and titanium. I'm sure there is more, but that is what I found immediately on my entrance into the abyss of utensils.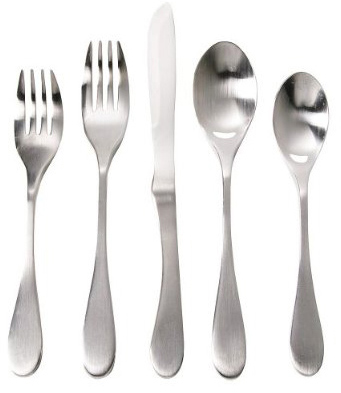 Through my research I learned that if you want to use the dishwasher, than it's a good idea to throw out the idea of all plated materials and just buy stainless 18/10. 18/10 stands for 18% stainless steel(chromium) and 10% nickel. I found that almost everyone who went and bought standard stainless flatware or plated flatware were complaining in review after review. "My forks were ruined after 2 months of using the dishwasher," "eating food with lemon juice changed the color of my spoons" etc….
Stainless steel with nickel although more costly can result in much less buyer remorse and greater longevity of happiness with your forks, knives and spoons.
In the end I'm looking at buying from Knork. What do you think? (Picture above)